Remembering Nick Curry 1961-2018
Nicholas Philip Curry: FDU, New Jersey, weightlifting and a love for cycling- The stories were all very similar when asking about Nick's life. From time to time I'd run into Nick at an American Open Series or local meet. We would always chat photography and weightlifting of course. I didn't get a chance to get to know him like others did. But I knew of his dedication to the sport.
When I was asked to write a feature on Nick, it left me thinking… Can I truly feature him? Will his stories get lost in translation if I tried summarizing other's memories for a write up? That's when I went to a few people to see if they'd like to contribute some memories about him. The response was overwhelming. Wow- so many emails had come in and honestly, I wasn't surprised by all the support.
Below we have 3 people who have contributed to this feature. Daniel Russell, Daniella Verhoest and David Boffa. Special thanks to Dena Smith for submitting the photos being used for this write up.
Sit down, and take your time reading through some memories of Nick and when you're done, please share one of your own in the comment section below.

Written By: Daniella Verhoest

Nik, Nikos, Coach. Nik Curry grew up in weightlifting and lived every day for it. As an athlete under him for 4 years, every day under his guidance I would wake up to a text starting with "Good Morning Champion...", because to him all his athletes were Champions. It didn't matter if you were new to the sport or a veteran, Nik would treat and push each athlete very similarly. The weekly email with your program always came with a note of what was to come and how he expected great things because he knew you could do it. He was a tough coach at times, but you always knew he cared deeply.

When I think about Nik my mind doesn't shift to a PR moment or a specific meet. My thoughts lead me to Saturday trainings at FDU. My week revolved around that day. All of us would get to lift together at one time and some special days a new face (usually new for me old for everyone else) would show up to join in. Nik would text me the night before to ask how I was feeling and to check on a time. Then he'd show up later than planned. Saturdays were special to me, it almost felt like a holiday each week. Many of us would have our heavy days planned for that time. Everyone would get quieted down by a "SILENCE!" from Nik just before that heavy lift. He would be phone in hand and ready with one of his cues, possibly in English. If not English, he enjoyed saying things in Greek or any other assortment of languages he had in his back pocket. Whether you made or missed the lift Nik was there to support. These are the days I think about, the moments I will hold onto, and the things I remember about Nik.
Written by: Daniel Russell

I first met Nick in the corridor at FDU. We had spoken via email that day about me coming in for my first workout at a given time. I had just moved from Florida to New Jersey. I think it was 3:30. I got there around then and naturally Nick was running a few minutes behind. He saw me wandering lost and looking for the training hall, and his first words to me were "You look lost, you must be from Florida," from across the corridor. Instantly I knew who it was, and he walked me to the training hall. Although he did not officially become my coach until a few months later, Nick always took an interest in my training and my workouts from day one even though he was not programming for me initially.

I'll never forget the first Saturday team practice I came to, Nick had encouraged me to show up because I had some heavier lifts planned. I ended up snatching 125kg for the first time that day, and to my surprise Nick was there, ready to give feedback and help me achieve a new record. He even recorded the lift and emailed it to me. This is what he loved doing, and he gave his time and knowledge so freely to anyone that would accept it and use it.


Anyone that set foot in that training hall got the royal treatment from Nick Curry. He had a way of bonding and connecting with people that created lasting friendships and relationships. He was genuinely interested in the well being of everyone else. And he wouldn't miss a beat in catching up with someone he hadn't seen in a while. Almost like he remembered where the last conversation left off even if it had been months or years since then. He would always ask about family, significant others, or significant events he remembered being mentioned. He listened intently and kept tabs on his people even when they didn't know about it. This is no doubt why he made such a lasting impact on so many people, myself included.
Written By: David Boffa
Of the many stories I have about Nick Curry there is one that I especially enjoy telling. A group of us from Team New Jersey were at a competition in Connecticut. One of our lifters hadn't eaten in hours and was scheduled to lift relatively soon.

"Nick, I'm starving," moaned the lifter.

"Don't worry," said Nick. "You'll lift on an empty stomach! That's a good thing!"

Shortly thereafter, the meet fell behind schedule. Seeing that we had time for a meal, a group of us went to a nearby diner. The lifter, who was attempting to move up a weight class (or at least fill out his current class), feasted with the sort of abandon not seen since the bacchanalia of Ancient Rome.

When we returned to the competition things were nearly back on track, and Nick told the lifter to hurry up and get ready since his session was starting momentarily. He looked terrified.

"Nick, I just ate," he said. "I'm still full from lunch."

"Don't worry," said Nick. "You'll lift on a full stomach! That's a good thing!"

That sort of relentless optimism characterized Nick. He had exceptional faith in his athletes, whatever their skill level, and knew that if you'd done the work in training it didn't matter how you felt.

A couple years ago, after taking some time off a structured training program, I contacted Nick to ask him about programming for me again. At my peak I'd been a mid-tier athlete who'd been fortunate to have great coaching and some luck at a couple national meets. When I contacted Nick I was far from my peak and unlikely to ever see it again. Yet he responded with an enthusiasm that belied the reality of the situation, as though he were writing back to sixteen-year-old Naim Suleymanoglu rather than me.

There was no naivety in all of this. Nick's eye was as good as anyone's, and he'd been around some of the best national and international lifters. But like any good coach he knew that the most important athlete at any given moment was the one right in front of you, and that the most important lift of their career was always the one they were just about to do.
Below is a video from an interview David did with Nick Curry, back in 2016, as part of an ongoing project about weightlifters and the 1980 Olympic Boycott.
David, thank you for providing this gem!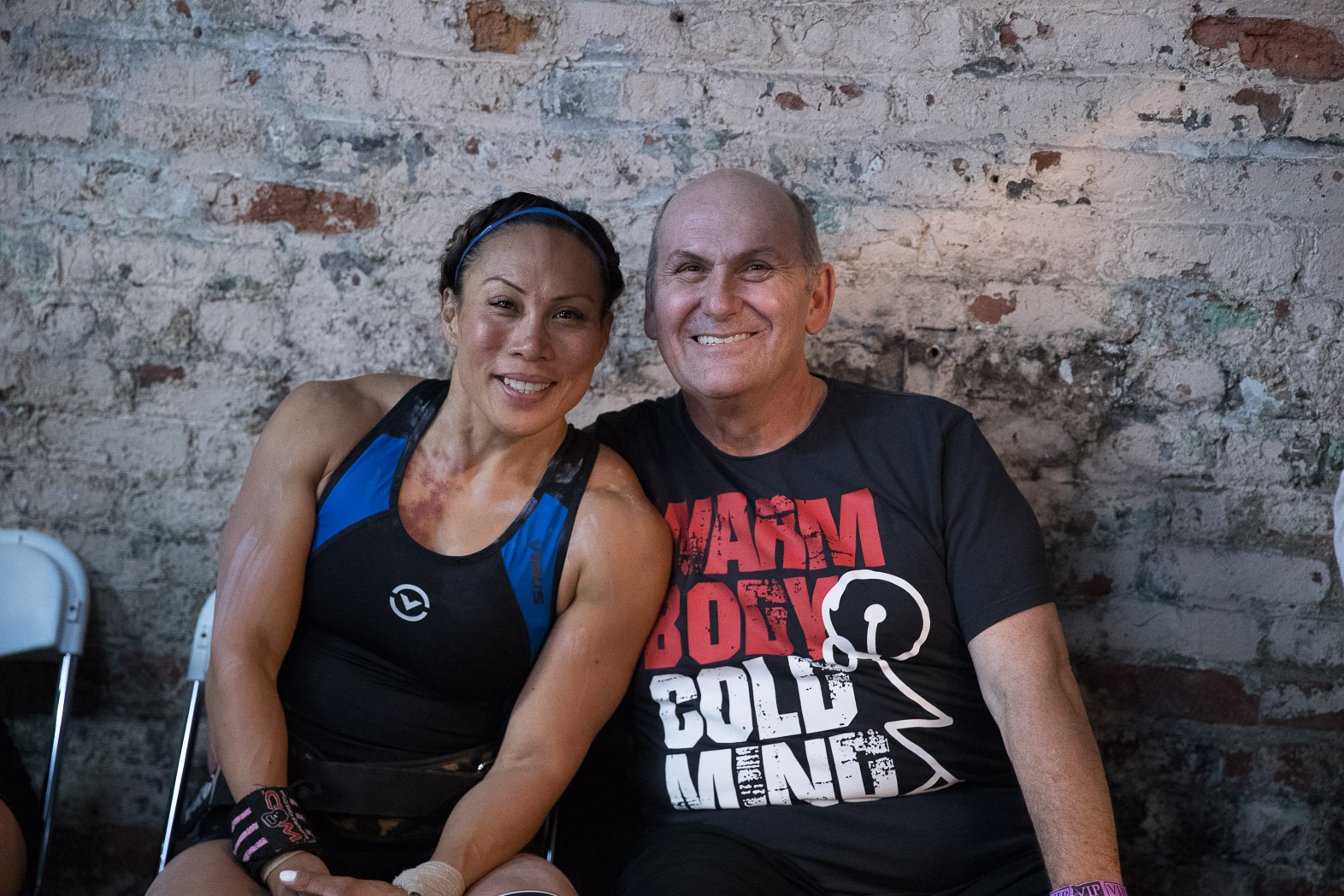 I know many asked to contribute a few words about Nick. Please do so below- I think it would be great for family and friends to read your words and memories of your coach and friend, Nick Curry.